New Insights
New Insights is the updated version of the Insights series. It brings new perspectives and experiences to the English classroom. Authentic texts present a variety of genres and communicative situations. The digital materials include interactive exercises. With the digital tests, students can practise the task types they will encounter in the new Finnish matriculation exam.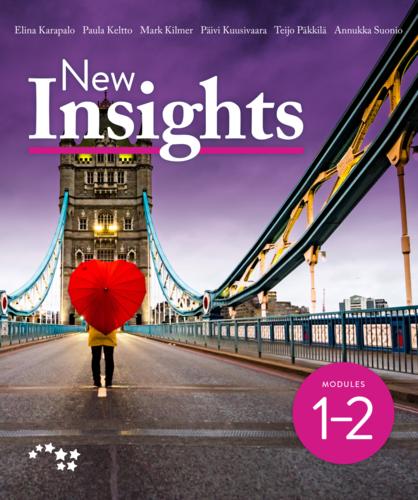 Engaging, diverse content
Insights is compatible with the new Finnish upper secondary curriculum.

Insights includes a broad introduction to the English-speaking world.

The series includes enhanced digital textbooks with interactive exercises and videos.

Digital materials enable students to progress and revise at their own pace.

Insights helps students to seek out interesting materials on their own and gets them excited about using English actively.

Each level includes 1–2 workshop units to develop students' skills in discussing and working together.
.
The workshop topics are relevant to young people's interests: I love Finland, Living online, Destination Australia, Rhyme time, Visual arts and Advertising.

Explanations of grammar are clear and thorough, with a variety of exercises.

Plenty of speaking practice is included in the chapter-themed exercises and grammar exercises.

The digital teacher's guide makes teaching easier and brings more variety to your lessons.

The series includes digital tests to provide practice in the types of tasks that will be in the new online university entrance exam.
Digital teaching materials