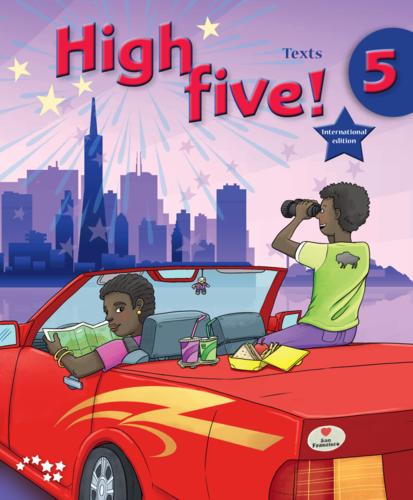 All
The richly illustrated High five! pupil's textbooks for grades 3–6 are filled with a variety of text types, training multiliteracy skills. Illustrated vocabulary and key phrases for each chapter are presented on a double-page spread which can also be used for downward differentiation. Catchy chants reinforce grammar structures and pronunciation is practised via lively action stories. All chapters include songs and games. Faster learners will benefit from additional vocabulary and texts.
ISBN/GTIN: 978-951-1-36330-9 Price: 31,91€ VAT. 0%Price: 35,10€ VAT. 10%
The user-friendly High five! activity books for grades 3–6 enable the teacher to plan lessons flexibly. Each chapter starts off by presenting and practising the key information. Then pupils dive into the illustration, story, and grammar with a variety of tasks. Portfolio tasks help pupils review and deepen their understanding of what they have learned. The exercises are followed by a self-assessment page and additional tasks. Each unit includes revision exercises, and there is a separate action-based section for the last month of the school year.
ISBN/GTIN: 978-951-1-37029-1 Price: 24,36€ VAT. 0%Price: 26,80€ VAT. 10%
High five! 5 digital teaching material includes an interactive version of the textbook (including karaoke function) as well as sound recordings and workbook exercises with clickable answers. The material also includes the teacher's guide.
ISBN/GTIN: 978-951-1-37499-2 Price: 78,00€ VAT. 0%Price: 85,80€ VAT. 10%
Other products of the series